"5 Shots Lower Without Changing Your Swing?"
Discover The Secret Mental Game Habits That Separate The Best Golfers From The Rest
Over the last 20 years, I've helped players with their mental game at all levels – from club golfers all the way up to Open Champions.
And I've discovered five habits that separate the best golfers from the rest.
I call them the "5 Habits of Success".
You've probably played a person with some or all of these habits at some point… and lost!
Very often it's the senior you see on the first tee, with that funny something or other in their swing.
You don't really notice them at first, as they appear to plod their way up the fairway, chipping it up and rolling it in.
Then your jaw drops when you see they made 68!
These 5 habits of success can make a radical difference to your game, whatever your handicap, and however good your swing for one simple reason – they stop you throwing away shots.
You see…
To win at golf… you first have to stop losing!
The 5 habits of success stop bad shots spiralling out of control… which can change the momentum of your entire game.
Think about it for a moment… if you can save one shot, then another, then another… what a tremendous impact that could have – on your score, your handicap, your stroke average, and if you're a pro, even your entire golfing career.
How great would it feel to turn "bogey, bogey, double bogey" into "bogey, par, birdie"?
(Or at the very least, limit the damage, so you don't end up frustrated, with a double bogey on your card.)
Well now you can.
I've created a downloadable MP3 program called "5 Shots Lower Without Changing Your Swing" that gives you:
Practical tools and techniques to
build the 5 habits of success into your game
These are the same tools and techniques that leading tour players get when they work with me one-to-one, so you are getting world class information for a fraction of what they pay.
And the best part is that you don't need to spend money on expensive equipment or hours working on your swing to see a positive effect on your card.
Even if you take just ONE IDEA from this program, it can have a dramatic effect on your game.
Here's what's inside this downloadable MP3 audio program:
The two critical elements of a pre-shot routine (miss either of these and you'll never reach your full potential)
The "Super-6" technique that helps stop your game falling apart on the back 9
The "Harrington effect" that can not only save you shots, but also unnerve your opponents so they lose shots (either way, you win)
The TWO aspects of golf everyone wants to control, and why focussing on the wrong one will leave you eternally frustrated
A technique for coping with setbacks and frustrations, battle tested by the woman who jogged round the world for 5 years – and how you can use it to deal with golf's highs and lows
The most important thing cricketer, Shane Warne, dubbed 'the finest legspinner the world has ever seen', learnt from the Australian Institute (and how you can use it in your golf game to stop those bad bogey runs)
The Ben Hogan method for knowing when you're mentally ready to take your shot
A 'stealthy' technique from 6th century Buddhism you can use on the course (this is so under the radar, your buddies will wonder how you manage to stay so 'zen-like' when the pressure's on)
A simple but powerful technique that will keep you playing to the best of your ability, even on your "off days"
The secret of the 'Golden Bear' that kept him smiling on the Sunday back 9, while his opponents crumbled around him
And more…
To a PGA Tour Pro, where a few shots can make a dramatic difference to the size of their purse, the value of this information can be measured in thousands. At the very least, it can save you hundreds of dollars on expensive golf equipment and hours of frustration working on your swing.
This program has previously sold for $49, but you can download today for just $37 (save 25%).
Plus, this program is covered by the boldest 60 day guarantee in the world – you'll either come home with a lower score after working these habits into your game, or I'll cheerfully rush you a full, complete refund… and let you keep the program for free.
How's that for fair?
When you click the "Add To Cart" button below, you'll be redirected to our secure payment processor, ClickBank, and your product will be made available for instant download in MP3 format as soon as you complete your secure payment in your preferred currency.
BONUS VIDEOS: Order Today And You'll Also
Get These 8 Golf Tips Videos Included FREE
Video #1 – Making Your Practice Time Count
Most golfers waste over 80% of their practice time. In this video, I'll give you some tips on making your golf practice more effective – and when you start making the most of your practice time, you'll be surprised how quickly your game improves
Video #2 – Short Game and Putting Tips
Games are won and lost on and around the green. In this video, I share a practice drill which will make your putting more effective, as well as a breathing technique which can help you beat nervousness, especially in pressure putting situations.
Video #3 – Dealing with pre-putt nerves
Nerves can turn a simple putt into a nightmare. In this video, I'll share a simple technique to help you calm those pre-putt nerves, as well as a couple more ways to make your practice more effective.
Video #4 – Effective Practice Games
In this video, I share a simple but devastatingly effective practice drill called "Par 18", which will help you to make your practice simulate the pressure of real game conditions. I also share some tips on building mental toughness and introduce you to a second effective practice drill.
Video #5 – Effective Pre-Shot Routine
An effective pre-shot routine is vital to golfing success, but most golfers never practice this aspect. In this video, I share some tips for an effective pre-shot routine, as well as a rock solid way to help beat first tee nerves.
Video #6 – Dealing with Bad Shots
Bad shots are an unavoidable part of playing golf. Even the world's top players have them. The difference is that the average player will allow a few bad shots to spiral out of control and ruin their whole round, whereas the top player will deal with the frustration so it doesn't break their concentration
Video #7 – Swing Thoughts That Work
Swing Thoughts are maybe one of the greatest mysteries of the game. Why is it that swing thoughts work one day, then they seem to disappear the next? In this video, I share my thoughts on swing thoughts, and offer some tips to make them work for you.
Video #8 – Staying Focussed on the Golf Course
Staying focussed out on the golf course can be a challenge for even the best players. In this video, I share some of the secrets of staying focussed on your game, and also share a practice game you can play to increase your mental toughness.
The bonus videos above may be withdrawn at any time, so order now to get them included FREE when you order my 5 Shots Lower Without Changing Your Swing program.
What people say about
my "5 Shots Lower" program: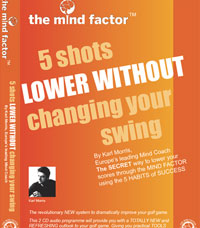 5 Shots Lower Without Changing Your Swing
Digital MP3 download
Your product will be made available for download in MP3 format as soon as you complete your secure payment, and is backed by a no-quibble 60 day money back guarantee so you can click here to order now and then get started within the next few minutes.
This program has previously sold for $49, but you can download today for just $37 (save 25%).
You'll also get FREE, immediate access to 8 Bonus Golf Tips Videos when you order now.
Please note that this special offer may be withdrawn at any time without notice.

NB: Prices quoted in US Dollars, but you may select your local currency at checkout if you prefer