How To Slash Strokes Off Your Handicap
Without Changing Your Swing
Europe's Leading Mind Coach, Karl Morris, Reveals The 5 Habits of Success That Will Help You Smash Through Your Score Barrier, Whether Its 70 or 100
From The Desk Of Karl Morris
Warrington, UK
Dear Golfer,
If you've ever tried to lower your score by focusing on the technical aspects of your swing, you've probably found your game got frustratingly worse for a long time before it got any better.
You're not alone.
My name is Karl Morris, and if there's one thing I've found in the last 20 years or so working in the field of golf performance coaching at all levels of the game – from club golfers all the way up to Open Champions like Graeme McDowell and Louis Oosthuizen – it's this:
For most people, it's all but impossible to change much about your swing!
And yet, that's where we're constantly told to focus our efforts.
Is it any wonder there's now a huge industry in expensive golf swing training equipment and techniques?
An industry that, for the most part, is leaving people pretty frustrated as they jump from one high tech gadget to another.
Just saying.
But before you misunderstand me, let's be totally clear…
Am I saying you shouldn't try
to improve your golf swing?
Of course not!
Of course, you should have lessons.
Of course, you should keep an eye on the fundamentials of the swing.
And if you have the time, inclination and opportunity to put in the hard work required to change the hard-wired motor program that is your golf swing… then it's definitely going to add to your success long term. Especially if you're aiming to be a Tour Pro.
But, for most people, that's not realistic.
You see, the truth is, your golf swing will never really change that much.
Even top players, who spend hour after hour on the range, day after day, find it difficult to make changes to their golf swing.
But just imagine if you could find…
A way of getting better results
with the swing you currently have
You're probably thinking, "Is that even possible?"
Well, I've personally achieved success with players at all levels of the game, and all ages too, so I can categorically state with evidence that it's within the bounds of possibility for you to achieve that too.
And over the last 20 years, I've discovered five habits that separate the best golfers from the rest.
I call them the "5 Habits of Success".
You've probably played a person with some or all of these habits at some point… and lost!
Very often it's the senior you see on the first tee, with that funny something or other in their swing.
You don't really notice them at first, as they appear to plod their way up the fairway, chipping it up and rolling it in.
Then your jaw drops when you see they made 68!
These 5 habits of success can make a radical difference to your game, whatever your handicap, and however good your swing for one simple reason – they stop you throwing away shots.
You see…
Before you can start winning at golf…
you have to stop losing!
How many times have you got on a run of bad holes?
You know, those days when your game just seems to be going like a freight train in a direction you can't stop.
Bogey… BOGEY… *DOUBLE BOGEY*… $@&%*!!!
Well, very often, there's a single shot that starts the run.
So even if you take just ONE IDEA from this program .. and that helps you save ONE shot you wouldn't have been able to save before… that can alter the momentum of your game.
Think about it for a moment… if you can save one shot, then another, then another… what a tremendous impact that could have – on your score, your handicap, your stroke average, and if you're a pro, even your entire golfing career.
How great would it feel to turn "bogey, bogey, double bogey" into "par, par, birdie"?
And all of that… without touching your swing.
Here's what's inside
this downloadable MP3 audio program:
The "Harrington effect" that can not only save you shots, but also unnerve your opponents so they lose shots (either way, you win)
A technique for coping with golf's highs and lows, battle tested by the woman who jogged round the world for 5 years
The most important thing cricketer, Shane Warne, dubbed 'the finest legspinner the world has ever seen', learnt from the Australian Institute (and how you can use it in your golf game to stop those bad bogey runs)
The TWO aspects of golf everyone wants to control, and why focussing on the wrong one will leave you eternally frustrated
The "Super-6" technique that helps stop your game falling apart on the back 9
Lessons from a famous US hypnotist you can immediately apply to your golf (and your life!)
The two critical elements of a pre-shot routine (miss either of these and you'll never reach your full potential)
The Ben Hogan method for knowing when you're mentally ready to take your shot
A 'stealthy' technique from 6th century Buddhism you can use on the course (this is so under the radar, your buddies will wonder how you manage to stay so 'zen-like' when the pressure's on)
A simple but powerful technique that will keep you playing to the best of your ability, even on your "off days"
The secret of the 'Golden Bear' that kept him smiling on the Sunday back 9, while his opponents crumbled around him
And more…
Here's what people say about it:
---
---
Dave Patten

 •

Great golf improvement ideas!

  
Best definitive ideas for implementing mental routines into better golf rounds!

May 04, 2018 at 21:16:43
---
Otto 

 •

Awesome

  
Good stuff. cant get enough

May 03, 2018 at 15:38:08
---
Lizzie Haigh

 •

Thinking happy golf thoughts works!

  
5 shots lower is having a great affect on my game. I listened to the download whilst flying to a golf holiday and played Super Six's - it really helped me focus on each hole and moving forward instead of pondering where I went wrong on the last hole! I played to par in a course with water in 17 holes so I'm sure it had a positive affect! This has changed my attitude to my game - I try to keep my head up and think happy golf thoughts

April 17, 2017 at 22:01:20
---
Scott Stanton

 •

Good early benefits

  
I have only started going through the 5 shots but already see a difference. A very good course.

November 23, 2016 at 01:45:56
---
Sabine Dierickx

 •

Woow it helps!

  
Thanks it helps and I will practice to remember the 5 lessons with each shot. I have lots of competitions in the next weeks and for sure it will help me more to have a better score and hopefully to lower my HC. For sure I continue my lessons with my teacher but the Five Shots is an extra each 18 holes.

June 23, 2016 at 21:40:36
---
Harold Hoad

 •

Onwards and upwards

  
It has given my game a new and fresh directoin

June 06, 2016 at 17:46:50
---
Mark Elswood

 •

A New Turn - A New Score...

  
I've spent a lot of time on the range recently and whilst my ball striking has improved, my scoring hasn't. That is until I used "A New Turn". I just played an 18 hole tournament and breaking down the course into 6 sections of 3 holes massively changed my focus and helped me improve my score from the previous two years by 6 shots! I look forward to using the other techniques over the coming months. Thank you.

May 21, 2016 at 06:51:22
---
Sally Pullar

 •

First Ever Hole in One !

  
Still work in progress but after focussing on the first shot I have been consistently playing to my 19 handicap, won 3 out of 3 match plays and managed to get my first ever hole in one ! I'm looking forward to moving to the 2 - 5 shots and confident that I will continue to see improvement.

March 22, 2016 at 23:22:04
---
Barry 

 •

Encourages Tasks at the right time

  
Extremely useful in focusing on the proper tasks at the proper time in my golf game.

January 13, 2016 at 20:54:44
---
Amber Young

 •

Just the tonic

  
I've only been playing golf for 18 months and purchased this as a gift for my husband ( a 25 year servant of the game!). He was having some troubles with his swing after some time away from the game and this is exactly what he needed - mind training! Thanks Karl, he raved about it so much I've now started the program and love it!

January 04, 2016 at 06:27:22
---
Next »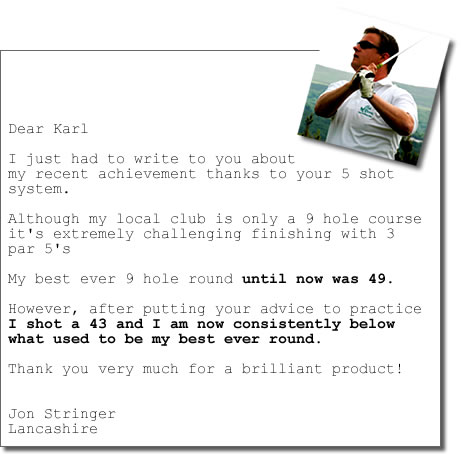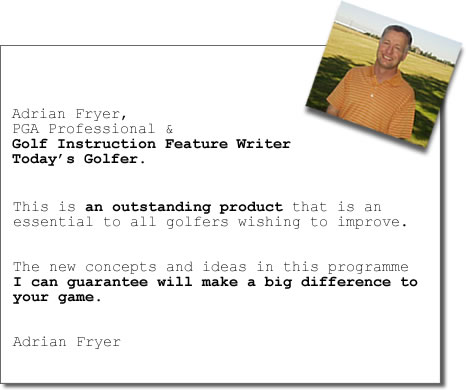 My "Money Where My Mouth Is" Guarantee…
"Use the 5 Shots Lower program for 60 days. If for any reason you've not come home with a lower score, I'll give you 100% of your money back. No Questions Asked!
(And you can keep the 5 shots program for free.)"
~ Karl Morris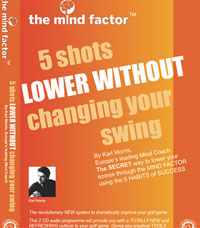 5 Shots Lower Without Changing Your Swing
Digital MP3 download
Your product will be made available for download in MP3 format as soon as you complete your secure payment, and is backed by a no-quibble 60 day money back guarantee so you can click here to order now and then get started within the next few minutes.
This program has previously sold for $49, but you can download today for just $37 (save 25%).
Please note that this special offer may be withdrawn at any time without notice.