The Mind Factor: Learn The Secrets Of Peak Performance Golf
Golf champions such as Louis Oosthuizen and Graeme McDowell rely on Karl Morris to help them with their mental game. Now YOU can learn his handicap slashing, tournament winning secrets too.
Join Karl's email newsletter and get the FREE Mind Factor report, which reveals:
The Swing That Works Under Pressure
The Importance Of The Mental Game
The Type Of Golfer You Are
Why Enjoying Your Game Is So Important
Why Positive Thinking Doesn't Work
Plus you'll get tips, drills and techniques that will help you slash your handicap
New To The Mind Factor Approach To Golf Performance?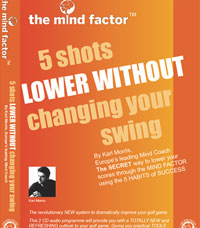 We recommend you start with Karl's highly acclaimed downloadable MP3 program, 5 Shots Lower Without Changing Your Swing. It will give you some simple-to-use tools and techniques that will let you shave strokes off your game… guaranteed!