"Who Else Wants To Be More Consistent At Golf?"
Discover The 7 Secret Rituals of Consistent Golfing Success With Europe's Leading Mind Coach
In my experience, almost every golf lesson starts with the pro asking "what would you like?" and the golfer saying…
"I just want to be more CONSISTENT".
The lesson gets underway, and for the next half and hour or so they both look for 'THE MOVE'. The elusive secret system of swinging that will bring peace of mind and consistent golf. They look… they search… and then they find it!!
"I've got it!!! This is it, my game is FIXED!"
Until the next round of golf… where everything unravels, the ball starts to go haywire… and frustration sets in.
"Time to book another lesson… time to find the next 'MOVE'…"
And so the cycle continues… anything from six months to sixty years!!!
Are we all so crazy??? Or do we just like spending money on golf lessons?
We have been looking in the WRONG PLACE!
The way the human brain is designed, you will never totally control your golf swing.
Hogan didn't mange it, Nicklaus didn't and neither did Woods.
But please don't think I am saying the golf swing is not important.
It is obviously VITAL.
But it's a plain and simple truth that your swing will never be TOTALLY CONSISTENT. BUT…
There is a way you can become the BEST golfer that you can be
The most CONSISTENT golfer you can be!!!
And possibly and most importantly the HAPPIEST golfer you can be!!
It is possible to develop a level of consistency in your game that you have previously only dreamt of.
I am going to share with you, some of the SECRET TOOLS used by GREAT PLAYERS that will allow you to get the BEST out of your game.
They allow you to find out what you are TRULY capable of being. They allow you to fulfil your potential.
You see, the simple equation is THIS…
You are only trying to control TWO THINGS at GOLF. The BALL and YOURSELF
You will NEVER totally get total control over the ball. The only way you can control the ball at your OPTIMAL level is to take control of YOURSELF and be the best player you can be.
Very very few people EVER understand this, and they confine themselves to a lifetime of frustrating golf.
In this revolutionary programme, I reveal what I consider to be the most important single aspect in your quest for success. The principles in this programme will apply to MANY areas of your life.
In this downloadable MP3 audio program, you will learn:
Why the brain won't allow the swing to repeat consistently
What you CAN make consistent in your game
How you can deal with NERVES and ANXIETY
The PROFOUND value of a RITUAL (and the rituals that work best)
How to play a game you CAN win
How to make sure your OUTCOMES take care of themselves
How you can get the best from a BAD day
How to avoid or turn around a slump
I absolutely guarantee that when you begin to work with this programme, you will see the game of golf in a totally different light, and I know how satisfying it will feel to have the UPPER HAND with the people you play against, be that TOUR STANDARD or a SUNDAY GAME with your pals.
Here's What People Say About It…
---
---
Mitch Farrer

 •

Amazing Coach Amazing Product

  
Probably the best audio cd i have ever heard on the mental game. Dr Karl is fantastic coach and his information is the best out there

September 02, 2015 at 16:43:08
---
Neil Cowie

 •

Effective

  
I found the 7 rituals really helpful in focussing on the right mind for pre, post and during my golf shot.

March 20, 2017 at 22:11:03
---
I Wilkinson

 •

Simplicity and 'obviousness' are strengths not weaknesses

  
My name must NOT be attached to any marketing materials or published reviews. The rituals, like many of Karl's thoughts, contain much that might be called 'common sense'. However, their simplicity and obviousness is their strength as they identify attitudes which we know make sense but don't always put into practise.

October 07, 2016 at 17:26:55
---
Paul Mccoy

 •

Karl's Done It Again!

  
As with all Karls work excellent information. I have trained with Karl and used his techniques to great effect. I'm more relaxed and enjoy the game much more because things that go wrong on the course don't bother me. Its not a game of perfect its, a game of consistency and you get that from Karls work. Recommended!

September 29, 2016 at 17:41:18
---
Stephen Chappell

 •

Power of positive thinking

  
Since using the 7 rituals I have found that I can clear my mind and remove any build up of pressure. No impact on lowering my score yet but feel there are positive things still to come. I will continue reviewing these rituals until they are firmly planted but so so good

September 28, 2016 at 22:35:53
---
David Lengren

 •

Thanks Karl

  
Certainly worthwhile. Most difficult issues to overcome are (a) easy to ask "are you in Neutral" however tendency is for the mind to drift to previous / potential worst case outcomes and (b) after saying "Let it go" drifting back to technical thoughts. Obviously the only answer is to persevere and over time hope these tendencies weaken. Even so, I liked it.

August 18, 2016 at 00:33:36
---
Arthur Matthews

 •

Review from a new subscriber.

  
I am currently working my way through the programme .It is taking some time as there is too much to take in all in one session .This programme has certainly made me think differently about by golf game .Time will tell if my game improves .

October 09, 2015 at 10:28:07
---
Rene Me

 •

Thank you

  
Very easy to use system and very effective.

September 02, 2015 at 15:09:25
---
Gertrud Benz

 •

Very good!

  
Very good!

September 02, 2015 at 15:47:59
---
Mark Young

 •

An easy way to accept results

  
I found this very easy to not only use, but also to take to the course. Allowing for the bad shots enabled me to reduce pressure on my game and to remain focussed on what I need to do, not worrying about errors made. Despite going through a swing change, this has helped me to take it to the course and accept the results.

September 03, 2015 at 15:10:16
---
Here's Why You Need To Order Right Now…
I've worked with many pro players in the PGA Tour, Ryder Cup and European Tour. Players who pay thousands for me to help them on a one to one basis. The instant download MP3 version of my Secrets to Consistent Golf program brings the same quality information to you in the comfort of your home for a fraction of the value of the information.
I absolutely guarantee that when you begin to work with this programme your will see the game of golf in a totally different light. In fact, I'm putting my money where my mouth is, because I'm giving you 60 days to use the programme and work these rituals into your game – and if you are not completely satisfied for any reason, I'll give you 100% of your money back and you can keep the programme for free.
Purchases are handled securely by ClickBank, who are our trusted third party payment processor, where you can pay by credit card or PayPal.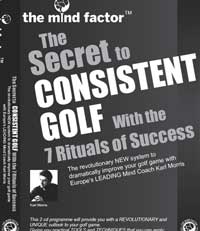 The Secret To Consistent Golf
Digital MP3 download
Your product will be made available for download in MP3 format as soon as you complete your secure payment, and is backed by a no-quibble 60 day money back guarantee so you can click here to order now and then get started within the next few minutes.
This program has previously sold for $49, but you can download today for just $37 (save 25%).
Please note that this special offer may be withdrawn at any time without notice.
NB: Prices quoted in US Dollars, but you may select your local currency at checkout if you prefer