"Do You Make These 9 Golfing Mistakes?"
Discover The 9 Thinking Sins That RUIN Your Game And How Avoiding Them Can Take Your Golf To A New Level
Golf is a game which allows us to THINK. The problem is that MOST of our thinking makes us WORSE. We have ALL been conditioned to think in certain ways… These are the MIND TRAPS.
Now, for the FIRST time, learn how you can INSTANTLY be able to CHANGE your thinking and DISCOVER the golfer you are CAPABLE of becoming.
In this downloadable MP3 audio program, you will learn::
The 'Crown Jewels' of practice that will help you make the most of your time on the range
How to calm your fears when the pressure mounts
Why focussing on score will wreck your game (and what to focus on instead)
The dangers of "positive thinking", and how to control your inner thoughts
How to stay laser focussed all the way to the winning putt
The Ben Hogan secret to becoming the greatest golfer you can be
The golfing personalities (and how to choose the right one)
The message from childhood that ruins performance (and how to overcome it)
The "armchair" exercise that will take your game to the next level
Plus, You Get The Karl Morris "No-Quibble" 60 Day Guarantee…
"Use the 'Mind Traps' program for 60 days. If for any reason you are not delighted with the results, I'll give you 100% of your money back. No Questions Asked! And you can keep the 'Mind Traps' programme for free."
Karl Morris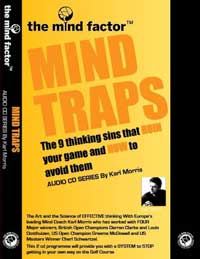 Mind Traps
Digital MP3 download
Your product will be made available for download in MP3 format as soon as you complete your secure payment, and is backed by a no-quibble 60 day money back guarantee so you can click here to order now and then get started within the next few minutes.
This program has previously sold for $49, but you can download today for just $37 (save 25%).
Please note that this special offer may be withdrawn at any time without notice.

NB: Prices quoted in US Dollars, but you may select your local currency at checkout if you prefer
Here's What People Say About It…