"Do You Make These 9 Golfing Mistakes?"
Karl Morris Reveals The 9 Thinking Sins That RUIN Your Game And How Avoiding Them Can Take Your Golf To A Whole New Level
Golf is a game which allows us to THINK. The problem is that MOST of our thinking makes us WORSE. We have ALL been conditioned to think in certain ways… These are the MIND TRAPS.
For the FIRST time, learn how you can INSTANTLY be able to CHANGE your thinking and DISCOVER the golfer you are CAPABLE of becoming.
Here's what's inside this Downloadable MP3 Audio Programme:
Introduction

The 9 thinking sins
Less rather than more
The science of EFFECTIVE thinking
What DOESN'T work
Understanding your own brain
Useful or not useful?

Sin 1: Practising Badly

The harder I practise – the worse it gets!
10,000 hours or NOT?
WHY do we practice?
Quality not quantity
Random game – Random practice
The 'Crown Jewels' of practice

Sin 2: Perspective

A puzzle to WHY we are so scared
It isn't WAR
Inappropriate fear
Amydala on RED alert
How to CALM your fearful brain
Immunizing yourself from FEAR

Sin 3: Over or Under Par

How you have been CONDITIONED
Loss Aversion – The hidden sabateur
Pain more than pleasure
A way out of the trap
A series of SEPARATE tasks
Playing a DIFFERENT game

Sin 4: 'Trying' to be Positive

The dangers of POSITIVITY
It is just MORE thinking
No more PREDICTIONS
How facts set you FREE
Controlling your inner self
The magic of NEUTRAL

Sin 5: Concentration

Just concentrate
Wrong time – Wrong place
Attention – not concentration
What is my ATTENTION on?
Switching off
Geting back to your senses

Sin 6: Perfectionism

The dangers of pefectionism
Good and Bad Perfectionism
How to NEVER be happy
The constants and the variables
Your CURRENT game
Hogan and Perfectionism

Sin 7: Playing For Others

Who do you play for?
What is your golfing PERSONALITY?
The dangers of 'other thinking'
My process – a great way to play
Having fun again
The ULTIMATE prize

Sin 8: Trying Too Hard

You can't MAKE birdies
How does TRYING feel?
Trying and Tension
Controlling your state
A scale for the brain to work with
The FREEDOM to PLAY

Sin 9: Enjoying the Status Quo

The strange HUMAN
Wired for FAMILIARITY
The FEAR of the unknown
The joy of CURIOSITY
Developing your game
Conclusions
Here's What People Say About It…
---
---
Nagaprasad Velamuri

 •

Great reading.

  
Very helpful. Recommend to golfers of all levels.

May 12, 2016 at 16:17:03
---
Yun Lei

 •

A must to have

  
I should have read this book when I started playing golf two years ago. It has become one of the most important parts of my pre &post-round golf. It is a must to read for new golfers who will ahave a better understanding of the "game of golf".

February 27, 2016 at 11:13:51
---
Aaron Smith

 •

Some very useful insights.

  
So far seems to be a very good product - some of the content was not new to me, but it is really useful to have all of these ideas condensed into a relatively short and usable form. My only small gripe - and it is a small one - is that the production itself could be better. The audio quality is only ok, some of the narrative could flow better, and the music is awful! Overall, I think this is a very good product. I am already putting some of the suggestions into practice, and although I have not yet had tangible results I certainly have a different attitude towards my practice and games.

October 22, 2015 at 06:14:03
---
Graham Boulton

 •

An effective training program

  
The program is delivered in every day language so it is easy to read & understand

September 02, 2015 at 18:43:17
---
Brian Bratager

 •

Nice Going

  
Excellent and effective.

September 02, 2015 at 20:33:26
---
Mike Berry

 •

Trapshooter

  
Concise and helpful

September 03, 2015 at 00:34:38
---
Plus, You Get The Karl Morris "No-Quibble" 60 Day Guarantee…
"Use the 'Mind Traps' program for 60 days. If for any reason you are not delighted with the results, I'll give you 100% of your money back. No Questions Asked! And you can keep the 'Mind Traps' programme for free."
Karl Morris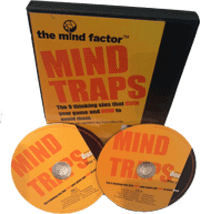 Mind Traps
Digital MP3 download, only $37 $27 when you purchase today
Your product will be made available for download in MP3 format as soon as you complete your secure payment, and is backed by a no-quibble 60 day money back guarantee so you can click here to order now and then get started within the next few minutes.