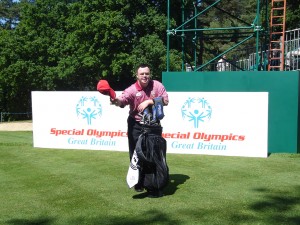 As many of you know, I'm an Ambassador for Special Olympics Great Britain – a role which is very dear to my heart.
Especially when I see how a focus on genuine ABility instead of DISability can lead to remarkable personal and sporting achievement.
In today's blog, I want to mention Matthew Sims, who despite being born with Downs Syndrome, has gone on to play golf all over the world – from representing Wales and Great Britain in World Games to partnering Ryder Cup player, Robert Karlsson in the BMW Pro-Am at Wentworth.
Matt has a dedicated regime and focus on his golf, from practice to fitness to his mental game but also knows where and how to step back from the pressures to allow himself to enjoy his game as well as win.
Not only that, but he is a real gent, and it's a pleasure to be in his company both on and off the course.
So you can imagine how chuffed I was the other week when I received a text message saying,
"I've done it! It's 5 shots lower as you promised!"
I know Matt does not mind me sharing the following information with you – he has very successfully built the routines of '5 Shots Lower' into his game and is now playing off 12.8!!!
Well done, Matt, you can be VERY proud of yourself, your game and for being a true Ambassador of golf!!
Please join me in congratulating Matt by leaving a comment below. And if you have a success story, why not share that too?