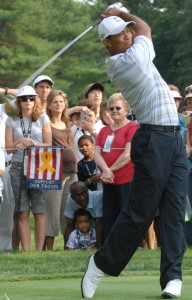 How often do we see golfers with all the necessary attributes to becoming a fine player – good technique, great swing – yet SOMETHING just seems to be missing.
That intangible final ingredient that provides the difference between success and 'having potential'.
Thinking about the greats of the game such as Tiger Woods, Annika Sorenstam, Karrie Webb and Ernie Els – do they not epitomise the very embodiment of belief in themselves?
How many times have we heard people say, "She would go a long way if only she would believe in herself" or "He just doesn't seem to believe in himself"?
Beliefs are a core part of the way our minds work, and the things you believe can have a huge impact on your performance (both positive and negative), as well as your ability to learn new things.
Please leave a comment below.
Looking forward to the Masters next week.
Regards,
Karl
Ps – In the Effective Training course of my Players Programme Deluxe, I examine how beliefs shape your perspective, and how to change the beliefs that are holding you and your game back.