"Who Else Wants To Be One of Life's Champions?"
Discover the 7 principles that will transform your golf (and your life)
But first, let me ask YOU…
Do you feel you are getting the best out of yourself?
Will you be able to look back in a few years time with some satisfaction of what you achieved?
Are you frustrated that 'others' are where YOU should be?
Do you 'know' you are making the most of your time and the unique opportunity you have?
Have you ever wondered what are the 'secrets' to getting the very best out of yourself?
Having listened to some of the world's foremost successful gurus and read in excess of 500 books on the subject of winning and achievement, I am convinced that
Much of what we are told to do by the gurus just doesn't work
It isn't what they say is wrong or bad, it is just that most of them miss some critical keys.
Counterintuitive keys that virtually nobody talks about. In many ways, what should work doesn't.
They tell us we would be better if we believe in ourselves and we 'think positive' and have a great attitude, yet, I have seen it time and time again how these pop-psychology principles can actually stop your route to success and hold you back.
I am going to share with you what I believe to be
The fundamentals of getting the best out of yourself
and becoming whatever YOU deem to be a success in whatever your field of endeavour.
I have been extremely fortunate over the past number of years to work with some people who ARE successful. People who CAN look in the mirror and be satisfied with what they have achieved in their field.
People like Michael Vaughan who captained England to an Ashes win against Australia after almost 30 years of continual failure against the 'old enemy'.
People like Graeme McDowell, who became the first European golfer to win the 2010 US Open for forty years and Louis Oosthuizen, who won the ultimate prize in golf, The 2010 British Open at St Andrews as a total rank outsider.
I am really excited about this programme and I know that if you take the information and work with it, your results will be SPECTACULAR.
We are not just talking about golf here… The principles I've put together in this programme will also help you be the best you can be in life.
Plus, You Get My "No-Quibble" 60 Day Guarantee…
"Use the 'Champion Code' program for 60 days. If for any reason you are not delighted, I'll give you 100% of your money back. No Questions Asked! And you can keep the 'Champion Code' programme for free."
Karl Morris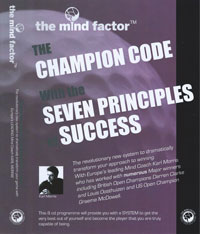 The Champion Code
Digital MP3 download
Your product will be made available for download in MP3 format as soon as you complete your secure payment, and is backed by a no-quibble 60 day money back guarantee so you can click here to order now and then get started within the next few minutes.
This program has previously sold for $99, but you can download today for just $67 (save 33%).
Please note that this special offer may be withdrawn at any time without notice.
NB: Prices quoted in US Dollars, but you may select your local currency at checkout if you prefer