We have been live for about 2 months now, and in that time have so far welcomed 107 members to the online course and plenty more signups for my free golf newsletter.
In that time, whilst I was helping Graeme McDowell prepare for the Masters, my co-instructor online – MIND FACTOR Coach, Rob Woodgate – was busy ironing out the last few kinks with the IT guys, so that we can make this online golf coaching programme more widely available.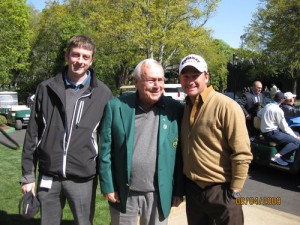 But before I tell you about that, I've got to say that The Masters is truly incredible and a MUST for every golfer to go to in their lifetime. I was incredibly lucky to be there working with Graeme McDowell who had a credible tournament finishing in the top 20. The sheer BEAUTY of the place does leave you speechless and I can safely say that TV does it little or no justice in describing its perfection.
I was very, very fortunate at The Masters to meet one of golf's GENUINE legends, Arnold Palmer. "Mr Palmer" as he is affectionately known by everyone at Augusta will leave behind possibly the greatest of all legacies to the game of golf.
There are of course other players who have won more Majors but for the sheer impact on the game itself it is hard to better Arnie.
The amazing thing about him is how much TIME he has for everybody he meets and how much warmth there is in his personality. He still loves to PLAY golf at every opportunity and is a lesson for us all in how to keep our passion for the game alive.
To say that I was inspired would be an understatement. So, in addition to opening the doors to Charter Members again, I've put together a deal I hope will inspire you too.
I won't spoil it by telling you the details here, but suffice to say, you will be very pleasantly surprised.
Kind regards,
Karl
Ps – Please leave any comments you have on the 2009 Masters below!