When I hear coaches talking about goals, it isn't long before the S.M.A.R.T acronym gets mentioned… the idea that goals need to be Specific, Measurable, Achievable, Realistic and Time-bound.
Now that's all very well and good, but over the years I've found I get better results when I ask people to set themselves outrageous goals.
The reason why is that if we don't have something really big to go for, we don't give ourselves the "fuel" to do whatever is required to achieve results, or to cope with the inevitable setbacks.
Without an outrageous goal to shoot for, it becomes easy to put off taking those lessons, to stop working on improving mental attitude, beliefs and approach, or to leave the proper fitting of those clubs for another season.
In other words, if you want to shoot for the moon, you need to aim for the stars.
So what does an outrageous goal look like for you?
Could you lower your handicap by five shots or start coming home five shots lower than you have ever scored before?
How would you feel if you achieved that?
And how would you feel if you "failed" and only managed three shots lower?
You see, it's a win-win scenario. If you achieve your outrageous goal, you feel fantastic, but even if you only get part way, you've still achieve something amazing.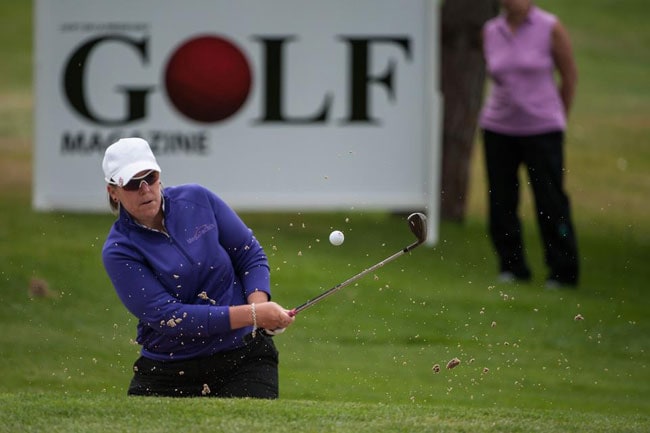 I'll always remember working with former tour pro, Kirsty Taylor, at the start of the 2005 Ladies European Tour and sharing this idea with her.
At the time, she was so frustrated that her personal best of 66 was 'just not good enough' to compete at the highest level, and we talked through some ideas that would help her break through her self-imposed limitations and achieve something outrageous.
Later that year, I was in the beautiful town of Nairn in Scotland, presenting a MIND FACTOR seminar, when I had an excited phone call from Kirsty.
'I have beaten my best score', she said.

'Brilliant', I said 'What did you shoot, a 65?'

'No!', came the excited reply. 'I just shot 61 in the Wales Ladies Championship at Machynys!'
Even I was taken aback at her achievement, which was the lowest ever score on the Ladies European tour at that time.
Over those four wonderful four days in Wales, she then went on to reap the harvest of all her hard work by winning her maiden tour title.
A word of warning…
There is a world of difference between an outrageous goal and an impossible goal, as whilst the former is at the top end of "realistic and achievable" scale, the latter is not.
So, unless you are already shooting 65 on a +2 handicap, why not set yourself the "outrageous" goal of coming in 5 shots lower this season?
What would you need to do in order to achieve this?
Kind regards
Karl
Ps – If you're up for it but need a helping hand, here's a great way to get started.